Women giving as one is not a responsibility but a privilege
Member and Partner Donations to Date
Fourth Voting Meeting
November 6, 2019
Second Chance – Last Opportunity  Presented by Linda Hoy
secondchancelastopportunity.org/
The mission of Second Chance-Last Opportunity (SCLO) is to empower individuals in crisis by providing them with essential skills and tools so they can manage their lives more productively.  Their vision is to serve as a gateway to hope for individuals who want to change their lives for the better.  SCLO is a hands-on intervention center that includes life-management skills training, parenting skills training, counseling, mentoring, HIV-AIDS education and counseling, summer and after-school youth programs, food, and clothing and shelter referrals.
Their operating budget is $138,000, with 95% going to Programs and Services.  All of their revenue comes from foundation grants and individual contributions.  They do not receive any Federal or State funding.  Our donation will be used to create an online Life Management skills training course.  The funds will be used for the design and implementation of it, along with the printing costs of the workbook materials.
If you were unable to attend this meeting, click below to watch the presentation!
      Second Chance – Last Opportunity Presentation
The two additional charities that were pitched were:
Samaritan Counseling Service of the Gulf Coast  Presented by Linda Mansperger
Samaritan provides affordable mental health counseling for individuals, couples, families and children, as well as career, personality and psychological assessments.
If you were unable to attend this meeting, click below to watch the presentation!
      Samaritan Counseling Services Presentation
Project 180  Presented by Alice Sprandel
Over 30,000 Florida prisoners are released annually and reenter our communities. Many wish to become law-abiding citizens and have the best intention of living a conventional life yet have few job skills, lack a formal education, and experience discrimination in housing and job markets because of their felony records. As a result, they become our local statistics—the homeless, the unemployed, the under-educated, the impoverished. Unable to make it in the conventional world, over 76% are rearrested for a new crime within five years which contributes to victimization and drains community resources. Project 180 seeks to break this cycle by providing workforce education and financial literacy classes for inmates.
If you were unable to attend this meeting, click below to watch the presentation!
Third Voting Meeting
March 20, 2019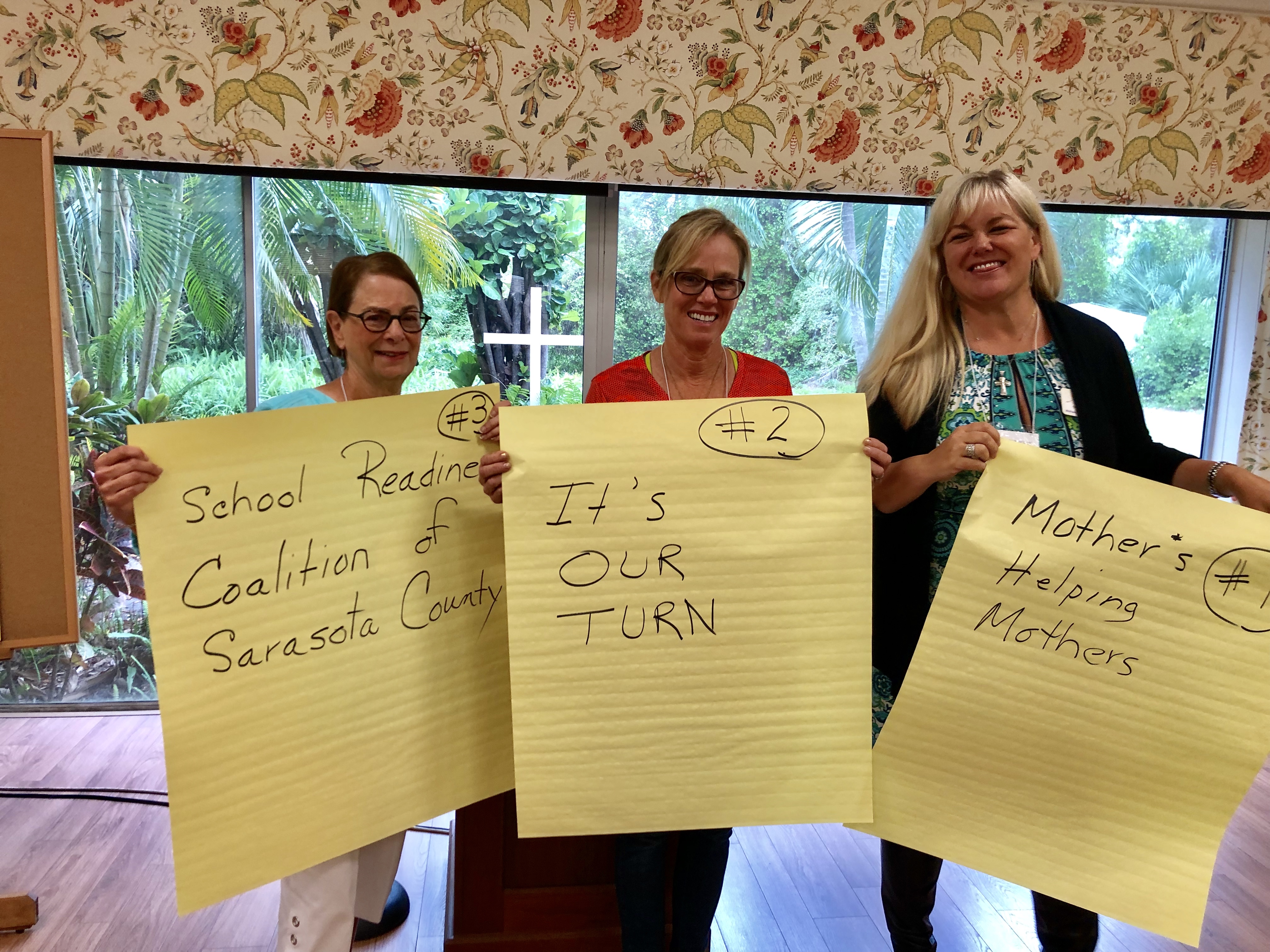 3rd Voting Meeting Presenters (l to r) –  Marcia Eisenberg, Karen Borrego, Cheri DeVries
On March 20, 2019  we had 100 of our 160 members in attendance at our third voting meeting.  Our presenters did a great job of introducing us to three worthy Sarasota charities.  Congratulations to all of them.
Mothers Helping Mothers was the selected charity
We raised $15,600.
In addition to the members' donations, we were awarded a $5,000 matching donation grant by The Richard Schulze Foundation – making a total donation of $20,500 to Mothers Helping Mothers.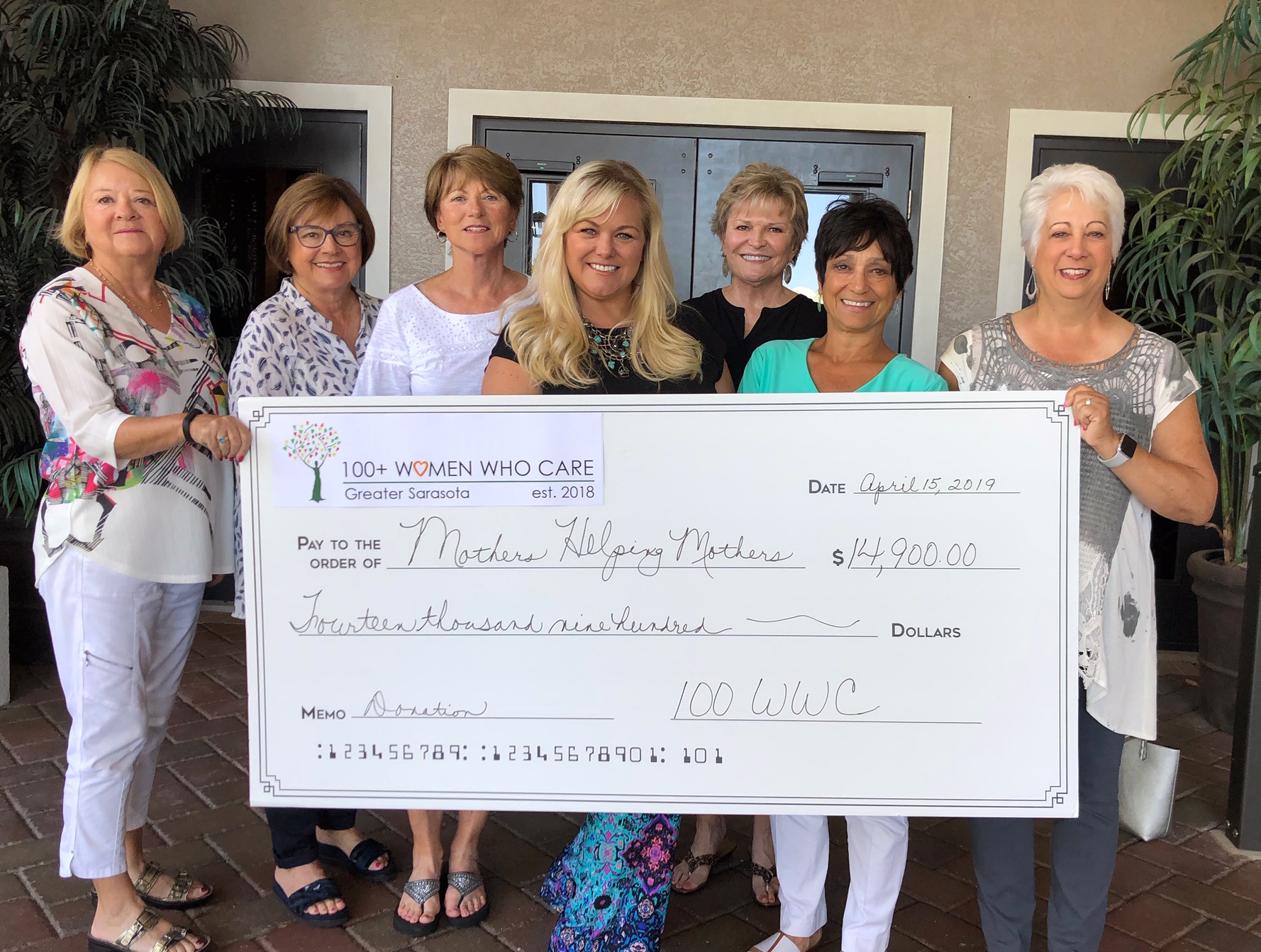 Mothers Helping Mothers   Presented by Cheri DeVries
Since 1990, Mothers Helping Mothers, Inc., an all-volunteer not-for-profit organization, has been providing basic necessities such as clothing for the entire family, housewares and baby equipment to families in need — free of charge. More than 3,000 families visit our storefront each year, reaching over 6,000 local children. We operate solely on a 100% volunteer only staff and financial contributions along with item donations from our community. In addition, we are one of only a handful of charities in Sarasota that can provide immediate emergency financial support to a family in crisis. We believe every child deserves a safe home with basic necessities and we collaborate with many organizations locally to help our family achieve this goal.
At our meeting on November 6, 2019, Cheri DeVries shared with us just how important the 100 Women Who Care Donation has been to Mothers Helping Mothers. Watch here!
      Mothers Helping Mothers "Thank You"
The two additional charities that were pitched were:
It's Our Turn, Inc.  Presented by Karen Borrego
It's Our Turn, Inc. is a non-profit founded in October 2014 by a retired Army Veteran (21-years of service)  and operates solely by volunteers who share a common passion to help local Charlotte County Veterans in need. The majority of funds raised are through an annual Memorial Day Veterans 10K & 5K Race in Punta Gorda, Florida. Donations enable It's Our Turn, Inc. to continue helping local Veterans in Charlotte County.
School Readiness Coalition of Sarasota County  Presented by Marcia Eisenberg
www.earlylearningcoalitionsarasota.org
The Early Learning Coalition provides administration and oversight of the local, integrated system of early education for preschool age children in Sarasota County, ensuring quality childcare and early learning programs, family access to services, and positive outcomes for young children, ages 0-5. The ELC serves over 4000 children and assists 180 providers annually.